I never thought I'd say that I spent last evening at the opera. It's not that I have anything against it, but it's never been my cup of tea. I'd say the closest I've gotten is the Looney Tunes version where Bugs and Elmer are singing "Kill the Wabbit, Kill the Wabbit, Kill the Wabbit!".
So last night was very much a surprise to me (as well as to my friends) when our girls night ended up finishing the evening at the opera! We had a fabulous dinner of fondue at a great little place in the Born district here. Great conversation and lots of laughs. When Cristy's husband, Shawn arrived with their friend Alfonso it just meant the more the merrier.... til they suggested we take a trip down the block til the opera.
The opera??? Without advanced tickets or reservations? And we're not exactly dressed for an evening of formal activity either. But they assured us that this was something like we'd never seen before...and they were right!
We walked down the block to c/ Montcada where across from the Picasso museum there was a very large door with no signage on it and a little old man standing outside, kind of standing guard. We commented on how many thousands of people have probably walked by this gem of a place without having any knowledge of what is behind door #1. I, myself, have walked by a number of times and had no idea what was there!
He spoke to us in Spanish and we got the impression that we needed to follow behind him and when we entered the door we were surprised to find ourselves in a huge, beautiful courtyard! We paid him 20 euros which went towards both entertainment and a drink (what a deal!) and were escorted inside since the show was about to start.
Night view - found this pic on their facebook page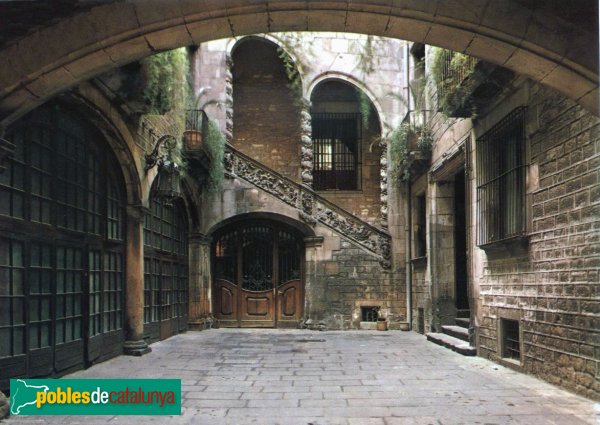 The building that the show was in was more of what would appear to be a medieval villa. I know no other way to describe it. It's smack dab in the middle of the city, squished between various nondescript buildings - and if it weren't for that wall and door outside, you'd never know what was here. The walls were made of what looked to be the original stone, the furnishings antique or at least antique like. And it was an intimate setting - maybe 30 people. Definitely not what you expect when you go to the opera.
When you go to the Wang, you are seated like sardines with little to no leg or armroom. You get dressed up to go to the show. Here, we sat on a couch and chairs, had drinks in our hands and toasted to a great find! It was a completely relaxing environment where we just sat back, relaxed and enjoyed the performances. I can't say that I recognized any of the songs but that doesn't mean I didn't like it. The voices were amazing - no microphones needed as the acoustics were fantastic - and their voices took over the room in an instant with everyone falling silent as they sang. Even taking pictures I felt a bit sacreligious (and did get yelled at when my first photo accidentally had a flash - oops!).
The performers at the front of the room
Right in front of us. The woman on the right was absolutely amazing!
One of the lights in the courtyard - gorgeous!
Not sure what this leads to but it was in the courtyard and looked pretty cool
After the performance was over we took some pics inside which included the main performance area
When I got home I realized I didn't even know the name of this place to tell others - I only knew it was across from the Picasso Museum and had no signage of its own. I tried to find a website or some kind of information that would lead me to what this building was back in its heyday and how it became an opera house. I finally found a facebook page that gave me at least a little information. The name of the place is Pequeña Compañia Lírica de Barcelona and the name of the place where they hold the opera is at the "Palau Dalmases". After doing some more research on the internet I found that the Palau Dalmases was actually built as a palace in the 15th century (which is practically brand new here!).
After lots of searching I finally found that the building actually has it's ownwebsite -
http://www.palaudalmases.com/
. Apparently they need to work on their google word search because it took me two pages before I found it! And while on this site I found a picture of where we actually sat last night - along the back wall on the couch with the side chairs - how cool is that to watch an opera from the comfort of your own couch?
All I can say is that it's been a while since we last had a girls night and there was no better way to kicking off spring in Barcelona with a girls night coupled with the opera! We will definitely return!
Julie